William Hill Sportsbook Review – Should You Play Here in 2021?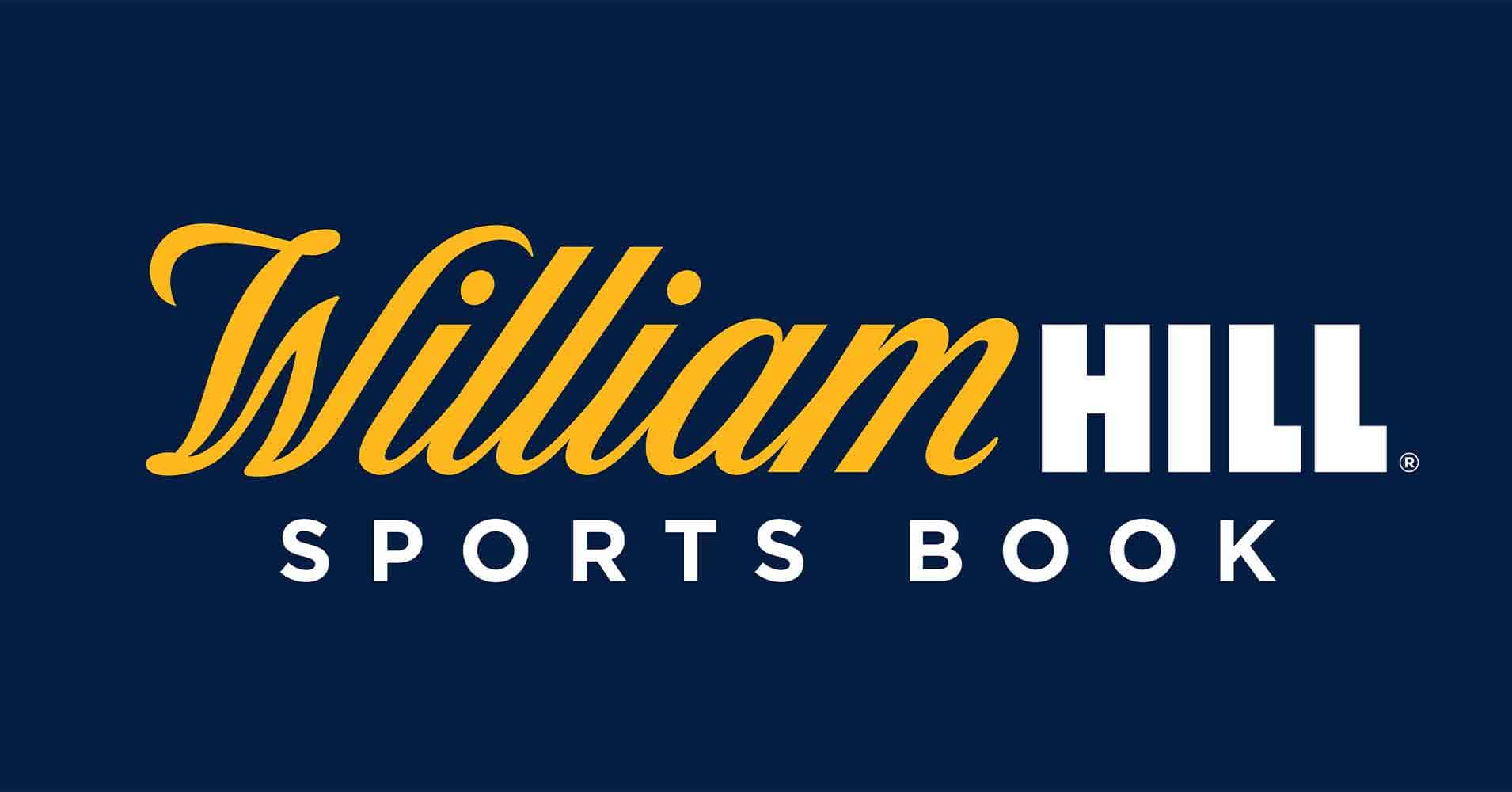 William Hill Sportsbook was established in 1934, which means this sports betting platform has over 85 years of tradition. Today, it is one of the most popular sports betting platforms in Great Britain and throughout the world. The operator started in England but expanded its business to the United States in 2012. Check out our comprehensive William Hill Sportsbook review to learn why players love and trust this provider!
Online Sportsbooks to Win Real Money
Sports Available at William Hill Sportsbook
The primary reason why each William Hill Sportsbook online review has positive ratings is the sheer number of sports offered by the provider. NBA, MLB, NFL, NHL, and other major US leagues are all there.
Other teams and individual sports are also available for online and mobile sports betting. Here is a wagering menu overview:
Soccer
Basketball
Baseball
Horse racing
Football
Auto racing
Boxing and MMA
Hockey
Tennis
The list goes on since you can also find golf, Formula 1, NASCAR, UFC, etc. As long as an event means something in the world of sports, you can wager on it here.
As for the wagers available, here are some examples from the wagering menu:
Parlays – these are single wagers that connect multiple games or events to increase your winnings.
Straight – a single bet on a particular sports event.
Futures – these are wagers on events that will occur in the future, such as who will win the NBA trophy, etc.
Prop – also known as proposition wagers; these are usually focused on major games like Super Bowl or playoff matches. A prop could be guessing which team will score first or whether a soccer squad will receive a red card.
Teaser – these are wagers for team sports where a different point spread is offered for a particular player.
Round robin – it is a mixture of parlays combined together.
The available sports are largely identical in all states. That means it doesn't matter if you are reading a William Hill Sportsbook Nevada review or article focused on another state. The sportsbook platform offers a similar betting experience to all US players.
How Does William Hill Betting Work? How to Start Betting?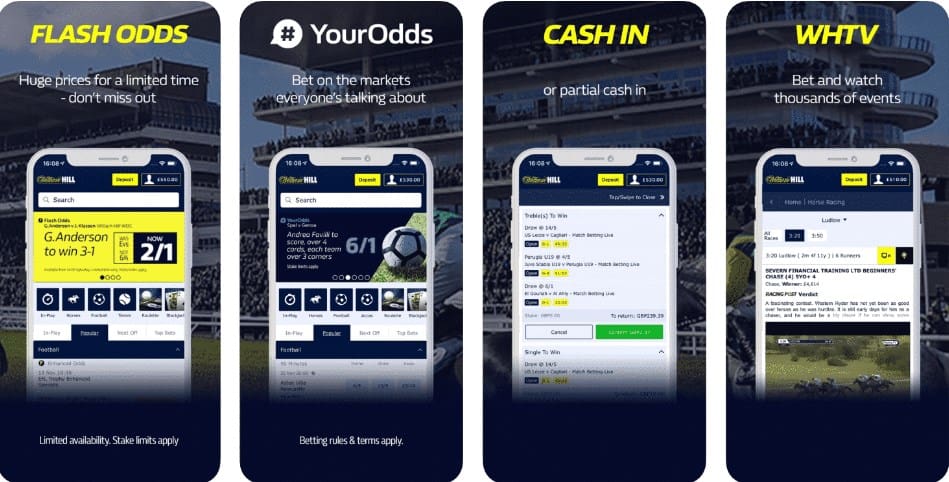 Would you like to bet on sports today? If you are unsure how to bet on William Hill Sportsbook sports betting, the entire process starts with registering an account on the sports betting platform. The signing up process is free, but you will need account funds to start playing on the betting website, and that makes depositing necessary.
Our William Hill Sportsbook review confirmed this is one of the legal sports betting sites out there, which means you should meet the legal age requirement. US betting regulations require players to be at least 21 years old to use gaming software. You can head to the sports betting website or download a sportsbook app to register today.
Signing up requirements depend on your location. An ID issued by the government and the last four digits of your SSN is mandatory in New Jersey. The paperwork might be different in Nevada or other states, so make sure to follow the instructions provided.
Our review of William Hill Sportsbook Nevada established it would require visiting a kiosk or full-service book to activate your account. Although you need to pass verification, each step is simple. Even beginners shouldn't have any problems with registering.
William Hill Sportsbook Mobile/Apps Review
You can download the William Hill Sportsbook sports betting app for iOS from the Apple App Store, while the Android version is available in Google Play store. The official betting website offers links to these apps so that you don't have to search for them.
The William Hill Sportsbook apps are completely free, and you don't pay a single cent for downloading. Installing an app on your device shouldn't take more than a minute or two. The interface of the betting app is user—friendly and intuitive. It will be easy to access your account, find sports for betting, and place wagers. The app will work on the latest versions of iPhone and Android phones, as well as tablets, iPad, PCs, and other devices.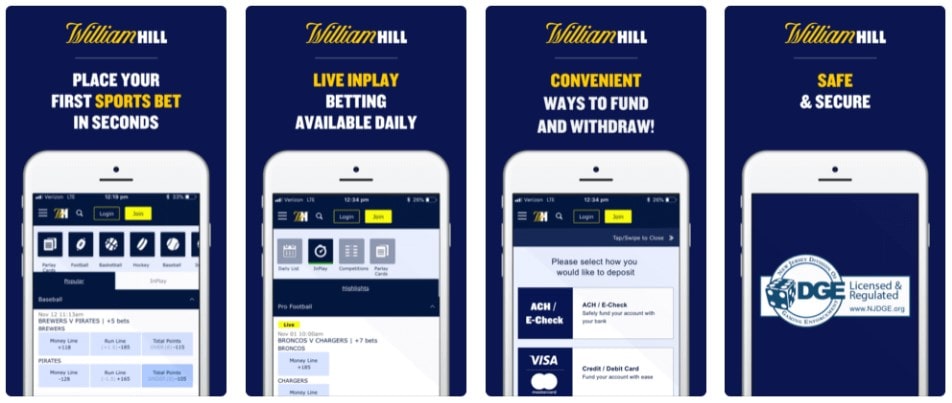 Promotions and Bonuses on William Hill Sportsbook Platform
You might be worried about William Hill Sportsbook scams, but this is a reputable website. That means any bonus code you receive from the provider is legit, and you can activate it from your account. Most bonuses work that way – you receive a William Hill sportsbook promo code and enter it when prompted.
A welcome deposit match is offered as a part of William Hill Sportsbook betting bonuses and promotions. It secures a boost the first time you deposit funds to your account. You will receive a 100% match bonus up to $150. This offer is exclusively available to new players. The maximum sums vary, but the 100% boost is valid in most states and countries.
Promotions that focus on specific sports, or special boost available on particular days can be offered by the operator. Make sure to find the best promo codes William Hill sportsbook has to offer to get the biggest boost for playing on this sports betting platform.
William Hill Sportsbook Loyalty Program

It doesn't matter what your William Hill Sportsbook playbook is. If you play regularly, bookmakers are ready to grant you incentives. Rewards Club is available in certain states, and you will find the loyalty program is equally attractive as in Nevada gambling sites.
Here is how this program works – every bet grants you a specific number of points. Check out this table:
Straight – 1 point
Teaser and parlay – 2 points
Parlay card – 5 points
Once you collect 1,000 points, you earn $1 in free bets.
Joining the William Hill sportsbook loyalty program is allowed for those who meet legal age requirements and pass identity checks. Membership is free, which means no deposit is required to become a part of the loyalty program.
Payout Speed at William Hill Sportsbook App
It is nice to see tempting William Hill odds, and you feel great if you win. Once your funds increase, it might be time for a payout. Submitting a withdrawal request should be easy. Depending on your preferred method, you might need to visit a local licensed service book. You might be able to submit a payout request via your sports betting app.
William Hill sportsbook staff will try to process everything as soon as possible. The bookmaker places the usual withdrawal time at 72 hours or three days. Even their official FAQ mentions that players' payout demands are usually processed faster. It might depend on weekends, holidays, and other special dates. You will appreciate receiving your money as quickly as possible.
William Hill Sportsbook Banking/Withdrawal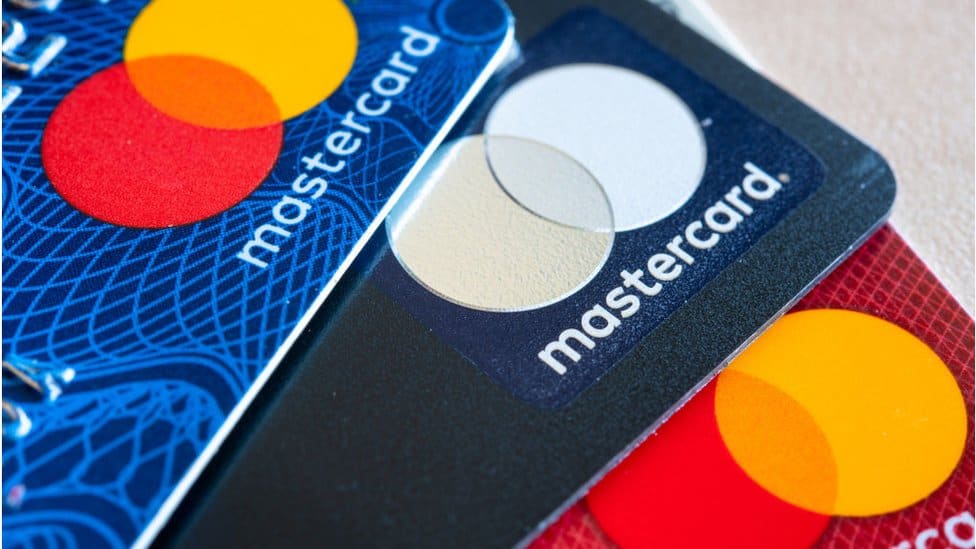 You've seen betting online odds and liked reading our William Hill sportsbook review, and you are now considering investing. Before you can enter the world of online gaming, you need to deposit funds to your account.
Deposit methods vary depending on your state or country. They might be among the following:
Visa, MasterCard (debit and credit cards)
E-check (ACH)
William Hill prepaid card
Cash deposits at local full-service books and kiosks
Deposits methods are usually instant. That means you will see funds in your account as soon as you finalize transactions. The minimum deposit amount is $20, and the maximum depends on your preferred method. Debit and credit cards have a limit set at $1,000.
As for cash deposits, you can visit local licensed kiosks or the bookmaker's facilities in your area. For example, Nevada has hundreds of locations where you can fund your account.
You can also choose to sign up for a William Hill prepaid card. It features a simple way of depositing and withdrawing, and you can collect complimentary points.
What are Withdrawal Options Available at William Hill Sportsbook Betting?
The withdrawals seem to have a minimum sum set at $20. That is the minimum amount you will have to earn to submit a withdrawal request. It is not a high sum, which makes the sports betting platform suitable for casual players. It takes up to three days to process a withdrawal request.
Multiple betting bookmaker reviews mention that William Hill Sportsbook uses different currencies throughout the world. If you are playing from the United States, you can expect to do business in USD. If you are from a European country, you can use Euros, and various other currencies are also supported.
As for withdrawal methods, they vary from one country to another. In the United States, you need to pass identity verification. It is only possible to withdraw funds at a local licensed facility.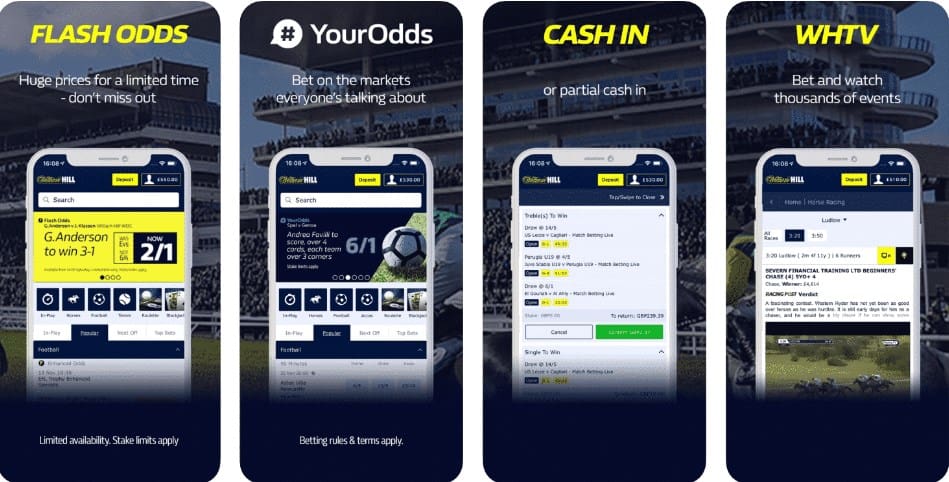 Conclusion
William Hill sportsbook is one of the best online betting sites that industry offers. That is not an exaggeration, but a realistic conclusion after analyzing all details. First, the betting platform offers a huge number of sports and events for wagering. You can pick from various bet types, and even try in-play betting.
William Hill sportsbook promo codes and loyalty programs make things even more tempting. Don't forget multiple deposit and withdrawal methods and fast processing time.
Advantages
Wager on anything comes to mind – thousands of sports leagues and events. From individual sports like tennis and golf to football, basketball, and racing events.
Safe and secure – the operator complies with laws and regulations. Payouts are guaranteed, and your funds are safe. That makes the sportsbook platform secure for all who want to try their luck at wagering on sports.
Apps for Android and iOS – applications are free for both operating systems. They are intuitive and easy to use.
A low minimum bet – it varies on state and country, but in Nevada, it is set to $2, which is quite low.
Disadvantages
Only available in some US states – in most cases, laws don't allow the provider to offer its services. Regulations might not allow gambling, or the operator had problems meeting required regulations.
Strict identity verification checks – this is necessary to prevent money laundering and other frauds, so it is understandable. However, the registration process might be a bit tedious due to this verification.
We hope that information from this article was helpful but, if you still have any doubts, do not hesitate to check other reviews that we prepared for you. There are a lot of options on the sportsbooks market in the US (NV), and you can be sure that we choose only the best ones for you:
FAQ
Is the William Hill sportsbook safe?

Yes, this is a provider with decades of traditions. Thousands of players have an account registered on this platform. As an operator who adheres to all the latest security standards, it ensures quick processing of all transactions.
What states allow William Hill sportsbooks?

William Hill sports betting is currently available in West Virginia, Rhode Island, New Mexico, New Jersey, Nevada, Mississippi, Iowa, Indiana, Florida, and the Bahamas.
How does William Hill sportsbook payout?

Players can visit the nearest facility to ask for a withdrawal. It Is possible to withdraw funds from an app, and you can use your William Hill prepaid card for receiving funds. Depending on your location, ACH and Skrill might be other available withdrawal methods.
How does William Hill $500 risk-free bet work?

William Hill offers a free bet bonus for new players that use a suitable promo code. The promotion requires a deposit and place suitable wagers. As long as you fulfill the conditions, you can receive a free bet bonus of up to $500.
How do I use my William Hill sportsbook bonus?

You can use your William Hill bonus for placing free bets around the website. The available games and other terms and conditions depend on specific requirements for your bonus. Make sure to read details of your deal to learn more about it.
What is a risk-free bet?

A risk-free bet means that the provider will refund the wager if you lose it. Let's say that you wagered $3 on a winner of an NBA match. If you miss, you are entitled to another $3 free bet provided by the bookmaker.